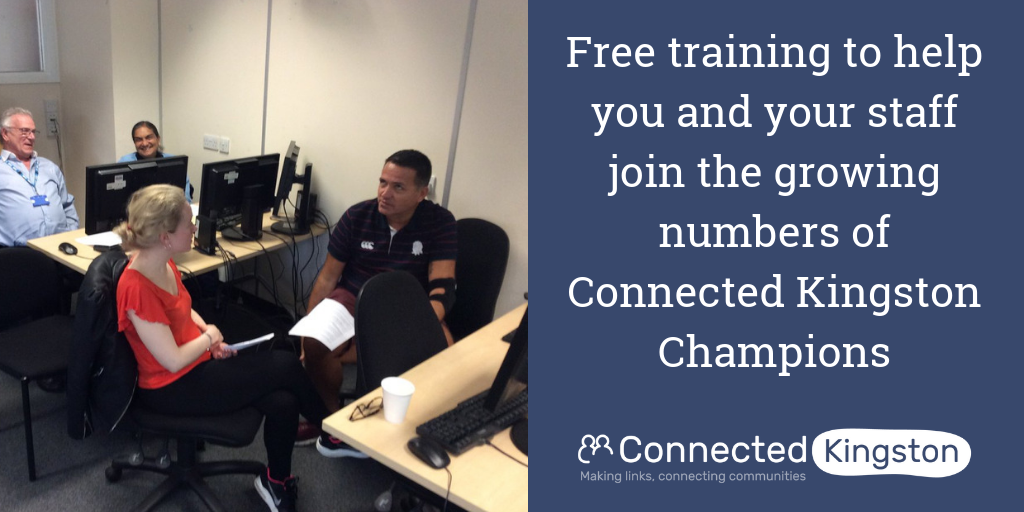 Kingston's new social prescribing programme, Connected Kingston is a whole system approach to social prescribing for the borough of Kingston.
The Connected Kingston programme aims to raise awareness of the excellent support that exists in our local communities from self-help groups, to lunch clubs, respite and carers support, to social and leisure activities including organisations like yours.
Connected Kingston will become a key tool for workers from the statutory and VCS sectors who engage with service users, allowing them to identify and refer people to local services to improve their wellbeing.
This training for frontline staff will provide an introduction to the Connected Kingston system and look at how you can use this to enhance your day to day service to Kingston's communities, helping you to become a 'Connected Kingston Champion'.
In addition this training will support you to have a different conversation with the people you work with. We will introduce you to Making Every Contact Count, a national initiative to support those who have contact with the public to talk about their health and well-being; and provide some helpful tools for having a strength based approach to conversations.
The training will...
Improve our understanding of social prescribing and its role in our work
Improve our ability to access necessary information that can better the lives of local residents
The training will cover....
The context and role of Connected Kingston Champions
Our role in active listening and observation skills – Making Every Contact Count
Learn more about the types of enquiry you may receive and how to respond
How you can use Connected Kingston as a signposting referral tool
The monitoring and recording of information
How to escalate complex cases and provide feedback
This training is for.....
Staff in statutory services who are engaging wtih customers frequently e.g. housing support workers & library staff
Staff and volunteers from voluntary and community sector organisations who engage with community members* frequently e.g. advice services staff, family and childrens groups, crisis support services, older people support*
*must be delivering services in Kingston
Please contact training@connectedkingston.uk or call 020 8255 3335