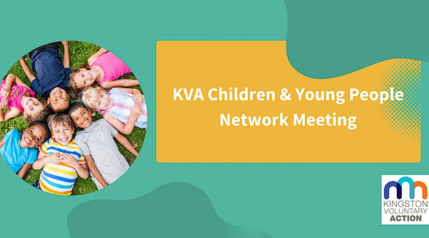 Welcome to the KVA Children & Young People Network on Tuesday 19 September 2023, 10.00-12.00, an online networking session for anyone whose work includes working with children or young people in Kingston.

The agenda includes:
An introduction from Sarah Reid, Head of Children, Youth and Partnerships at Achieving for Children to the new Family Hubs that are being set up across the borough; offering joint working opportunities and a venue to offer your service from there, free of charge.

We will also be looking at Resilience Networks with KRSCP and other safeguarding areas including the LADO and safer recruitment with Tracey Welding, Deputy Manager of the Kingston and Richmond Safer Children Partnership.

Francesca Millar, a Public Health Nutritionist at Royal Borough of Kingston upon Thames will be speaking about Healthy Start, and also touching on other Public Health areas such as immunisations and HENRY (Health, Exercise and Nutrition for the Really Young), which is a universal service for families offering a childhood obesity prevention programme that supports families with young children (0-5) to develop healthy lifestyles.
There will also be an opportunity to discuss which topics you wish to cover at future meetings, what support would be helpful to your organisation from KVA and any issues you would like to share with other groups in the sector.

This meeting will be held online. A Zoom link will be sent to you in your confirmation email, and subsequent reminder emails nearer the date.