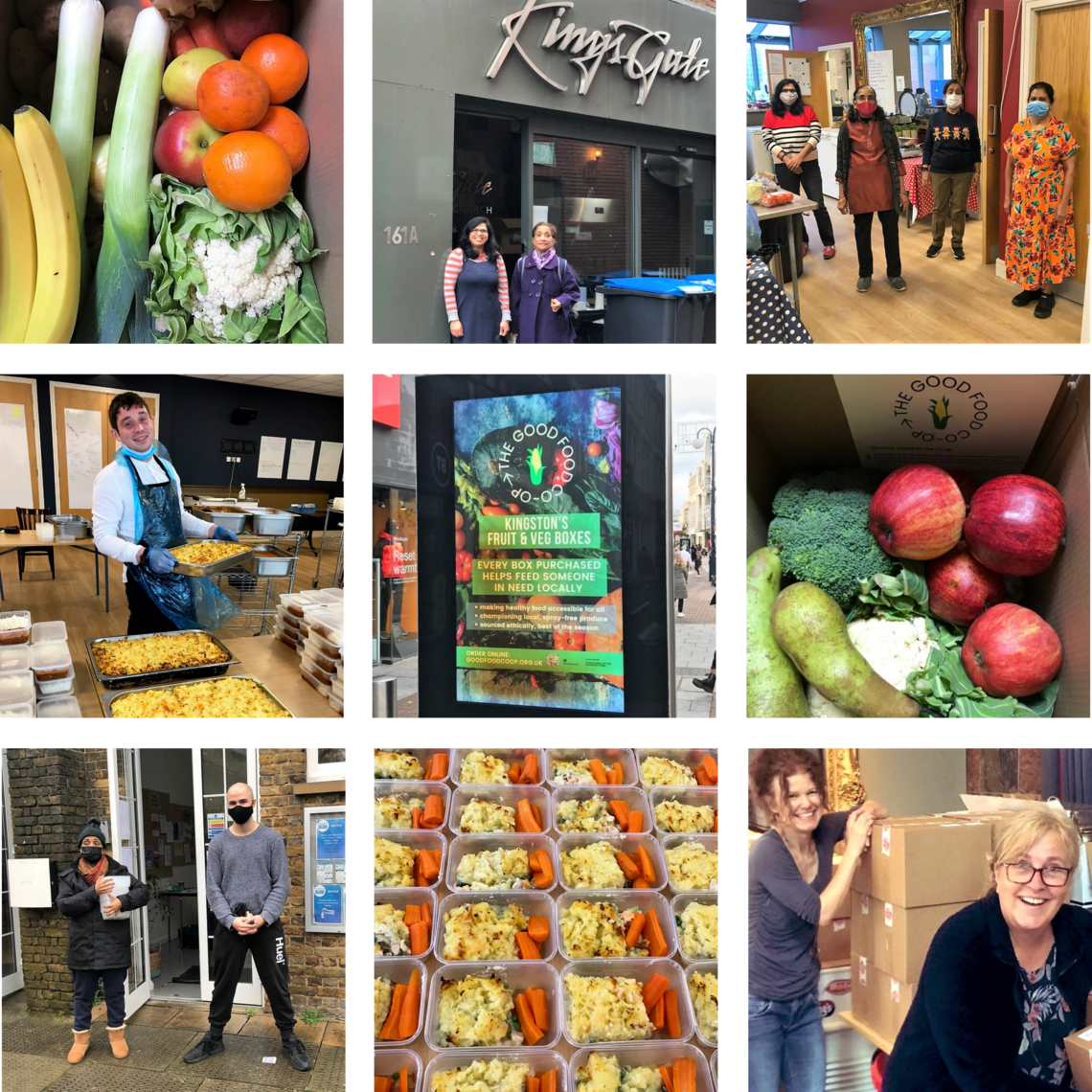 Celebrating food groups in Kingston
Kingston food groups working together during the pandemic

Introduction
Kingston's voluntary, community and social enterprise (VCSE) sector has increasingly been working together to address food insecurity. In 2018, Kingston Voluntary Action (KVA) and the Public Health team published the report: Food for Thought - Food insecurity in 21st century Kingston. As a result of this publication, KVA worked with partner organisations to form the Good Food Group to address the relevant recommendations in Food Poverty Action Plan.

In Kingston, we are seeking to establish a culture of healthy living for all, with an ethos of "by the community, for the community" and where the provision of healthy food is accessible to all. During the pandemic this work has never been more needed.
The Good Food Group
Over a six month period, from October 2020 to March 2021, the Good Food Group charities from across Kingston, proactively addressing the area of food insecurity, have come together to share resources, redistribute surplus across the borough, help problem solve and support each other.
Initially, thanks to funding from the National Lottery Community Fund, a core group of organisations came together to form the partnership, including:
Milaap Centre,
Voices of Hope,
Independent Yemen Group,
The Good Food Co-op,
Korean group,
Save the World,
CREST,
Kingston Food HUB

Good Food Group's achievements
With thanks to funding from the National Lottery Community Fund The Good Food Group was able to coordinate and expand the VCSE response during the immense challenges of the pandemic. In six months, this group has achieved:
12367 individual meals provided to those who are vulnerable and unable to cook or provide for themselves
11676 bags of food supplies distributed
18318 people overall accessing food, many on a returning basis
8552 volunteer hours
58 tonnes of food redistributed
157 people referred to financial support
122 people referred to advocacy
7376 recipe cards distributed
10 online cooking videos released
67% of overall group response goes to BAME communities helping to address the disproportionate impact of Covid on BAME communities
Case study: The Good Food Co-op
The Good Food Co-op is going from strength to strength. Their borough-wide fruit and veg box delivery is now sending out 190 boxes with 90 of those being heavily subsidised and going to those who otherwise can't afford healthy fruit and veg. This is made possible by all the profits from full paying customers going to help those in need. They hope to encourage more people to sign up so they can continue to increase their offer of support to others. Referrals are taken from VCSE organisations who help to actively engage the referee with advocacy to address underlying financial drivers. Free bonus bags of surplus products from the Foodbank are also given to those in the referral/subsidised route along with the purchase of their subsidised fruit and veg box. See goodfoodcoop.org.uk for more information.
Case study: CREst feeds hundreds during pandemic
CREst (Cambridge Road Estates Community Group), a charity that exists to look after the health and wellbeing of Cambridge estate's residents, has fed hundreds of local people in need. As many foodbank outlets in churches were forced to close their doors at the start of lockdown, CREst increased its offering at its foodbank at Piper Hall to accommodate the extra people in need.