Covid-19 has impacted on our daily lives in various ways, no more so than on the provision and access to food. A food survey was sent to ascertain food access and provision pre- Covid-19, supply during the current situation and to find out how VCS is planning to respond over the next 3-6 months. 37 organisations responded to the survey that was sent out.
Food Provision Pre Covid-19
20 organisations provided access to food prior to the current crisis.
Of those 16 provided core food provision/ access services including: free or low cost meals; free food packs; and distribution to food vouchers.
Top 6 activities delivered alongside food provision services pre covid-19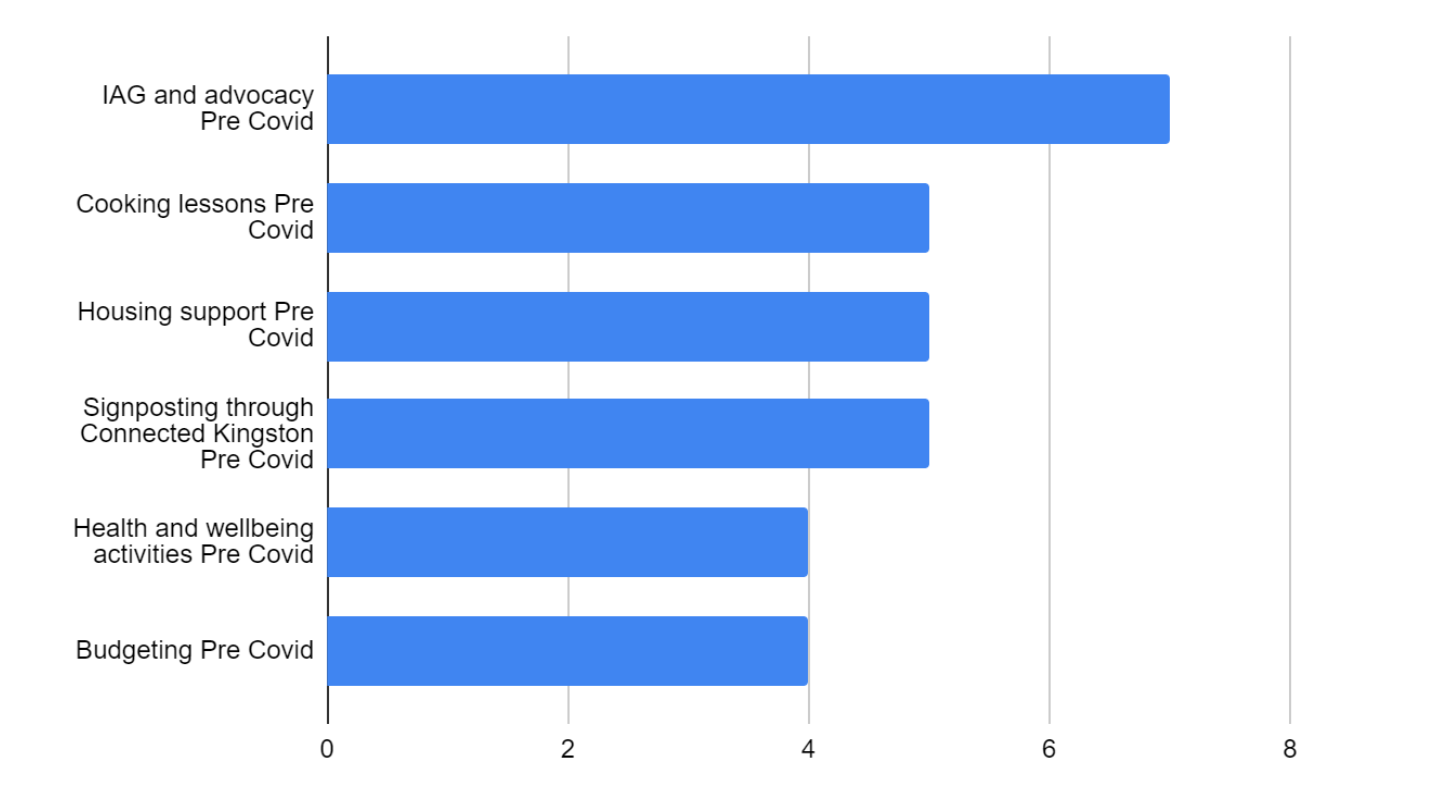 Location of free/ low cost food beneficiaries pre covid-19

Analysis of the location of beneficiaries of free/ low cost food didn't indicate higher concentration for the most deprived wards in Kingston.
Current Food Provision
An additional 7 organisations are providing food access/ provision in the borough.
6 organisations have ceased core food access/ provision in the current situation; signposting to the core hub instead.
The number of organisations providing a shopping service has tripled.
"
Sources of food for VCS organisations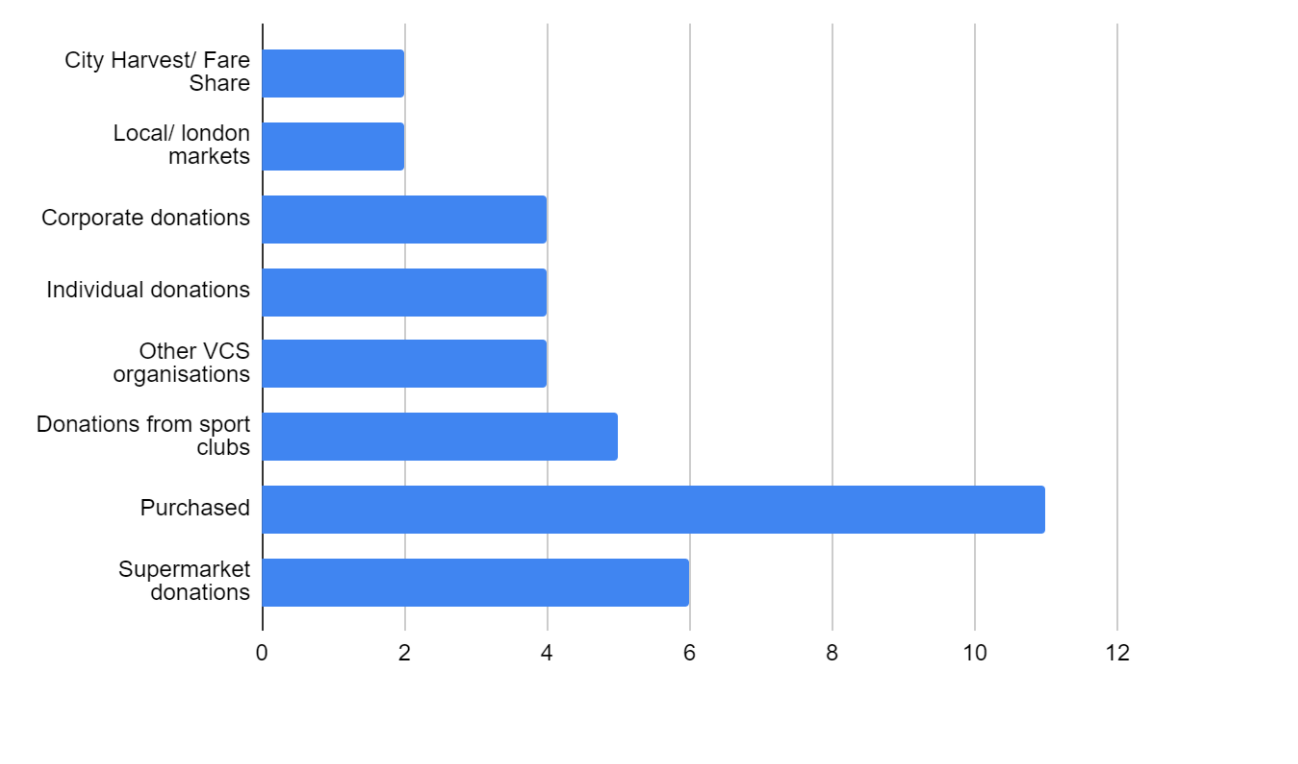 Longer term response
27 organisations said they wanted to be providing food to their client group over the next 3-6 months.
Support needed to continue/ begin food provision services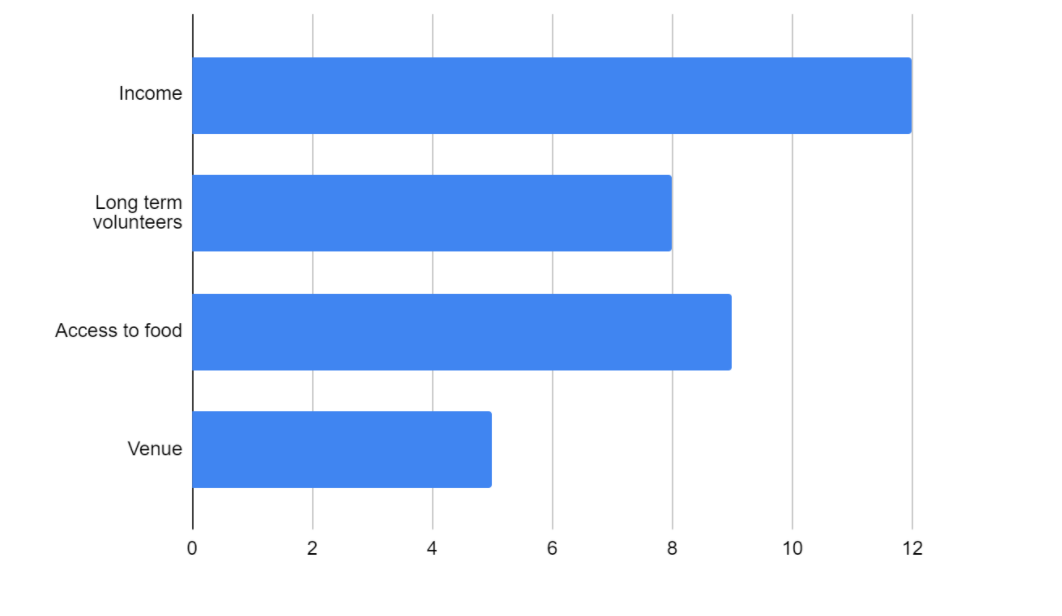 "
There are concerns about a drop in incomes for those that rent their space and the need for income to cover staff costs.
VCS organisations are aware that the increased numbers of volunteers are due to a change in working patterns for many people. Many that are currently providing services will not be able to continue without long term volunteer support.
Concerns around access to food are primarily around accessing cheaper food brands, drop in food donations and sourcing ingredients for meal provision.
Churches are keen to access their venue in order to provide food. Others need access to storage.
Issues and gaps in food provision identified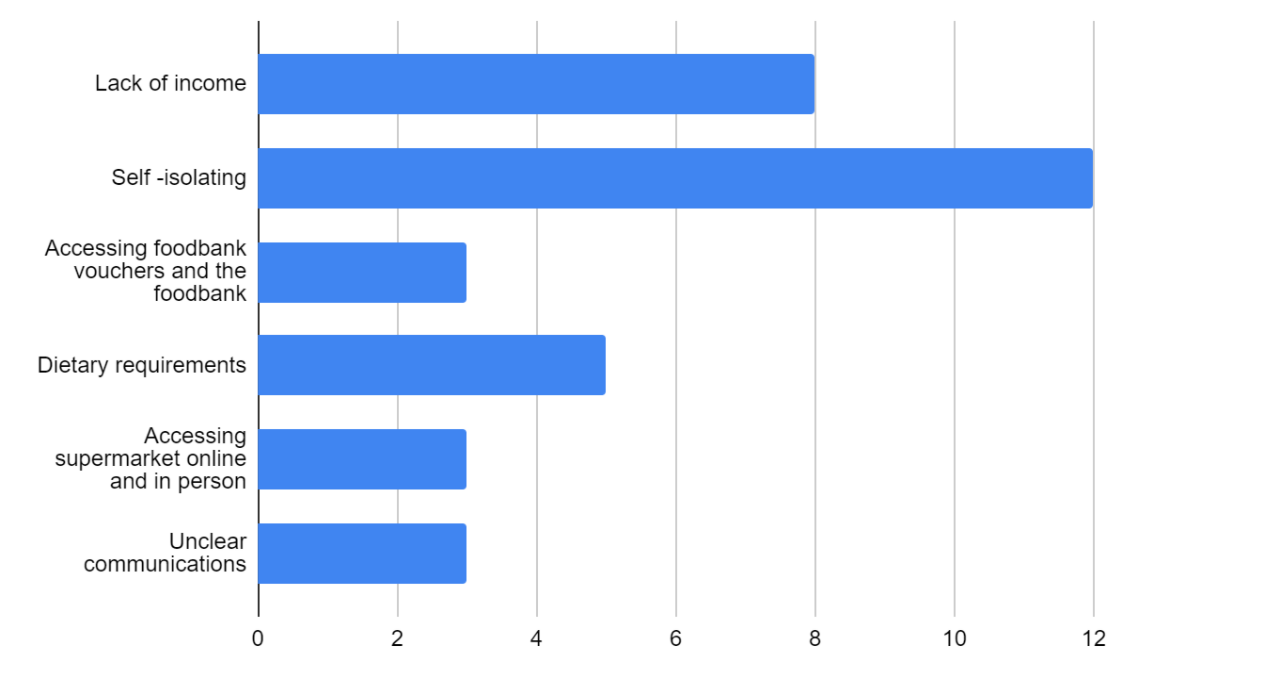 Lack of income
Lack of income is a key issue for residents and many are concerned that those that are currently self employed will use their reserves and then need to access free food provision.

"Unemployment, time waiting to access Universal Credit, already having been in poverty and having little or no reserves to draw on."

"Most if not all low income people (artists/ musicians) will currently be using loans and overdrafts to buy food. Free food services are not currently a consideration for this group however I imagine next month it will be and you will see a rise in demand for the services."

VCS organisations are also identifying there may be Isolation: There are two groups here: people that are isolating as they are vulnerable and others whose mental health issues are hindering them from going out.
"Their own personal mental health issues hinders them from leaving their property."
Accessing foodbank and vouchers: Many of the places that would usually provide food vouchers are not open so are unable to provide paper vouchers. Foodbanks have also had to reduce their hours.
Dietary requirements: Halal, vegan and gluten free foods have been difficult to access.
Access to supermarkets: Difficult for some to order online due to skills and technology. Queues in low cost supermarkets are very long which is difficult for those with young children.
Unclear communications on what is on offer from the triage hub.

"Not all our clients realise they are eligible for support from the Council"
Recommendations
Consider increasing access to low-cost healthy food: e.g

number of low-cost meals alongside free meals to help fund services
food co-operatives
wholesale purchase and selling at cost price

The issue of access to venues needs to be addressed in future guidance on safe practices - and seen as a priority as we come out of lockdown.
Deploy dormant local volunteers to do food shopping for those who can afford to pay and provide best practice guidelines on shopping payment methods.
Work more proactively with local food businesses so that both lack of food provision and business sustainability are addressed.
Ensure survival of local VCS organisations to prevent escalation of the problem.
Look at ways to provide other activities such as IAG alongside food provision.
Consider ways to cross the digital divide.
Focus on grant applications on locations and groups where there is the greatest need.
Increase number of organisations that are able to provide food voucher referrals.
Identify groups of people and target communications to them e.g

Self-employed/ furloughed staff: How to apply for universal credit, signposting training and employment opportunities, explore how to access food and make it go further before things get complicated.
Raise awareness amongst practitioners who may not be aware of the problem and/or provision on offer.
Lone parents, as they are the group most likely to be impacted by food shortages.