The impact of
Covid
19 on local communities, particularly those who are vulnerable and isolated,
means that
local voluntary organisations
are being relied on to
respond quickly, divert their services and provide vital
support
where it is needed.
Across
Kingston
, a range of V
oluntary and Community Organisations and
S
ocial
E
nterprise
s
(VCSEs)
have been organising volunteers and resources on an unprec
e
dented scale, to provi
d
e
support through food banks, food parcels and
delivery, telephone befriending
, buddying and
emergency accom
m
o
dation
to a range of communities in th
e
borough.
In many cases this has meant VCSEs have needed to pivot from providing one service to a quite different one to meet the current needs of the same clientele. Others are having to learn new skills and acquire new software (both for themselves and their clients), to enable them to design and deliver services online.
At the same time as creating extra demands on the time of staff, trustees and volunteers, the crisis has meant that many of these organisations are faced with a financial crisis. This has been caused by increased and unanticipated costs coinciding with loss of income, due to the essential cessation of income generating activities including fundraising events, closure of charity shops and loss of customers, service-users or clients as well as loss of rental income from premises.
Whilst extra resources have been made available by funders to VCSEs for Covid-19 related activities and beyond, competition for these are intense: in the interests of time, larger funders have tended to allocate to those already in receipt of their grants. Some organisations who had submitted applications for funding prior to 'lockdown' have been told these grant programmes are now on hold. VCSEs in the Royal Borough of Kingston upon Thames face the additional challenge of a lack of local funders who could respond to this challenge, making them particularly dependent on London-wide and national funders.
KVA

Financial Implications s

urvey

:
KVA created and sent out a survey to establish which of the local voluntary and community organisations supporting the most vulnerable people in the borough are experiencing a level of financial risk which might threaten their existence. The survey was a route for organisations to have a voice and raise their concerns, which otherwise might be lost in the noise of the Covid-19 crisis. This is important, as it is difficult to imagine what our borough would be like without many of the smaller organisations, even if the larger ones survive.
The survey was sent out via KVA's eNews and VCSE networks mailing lists, with responses providing a snapshot of the situation facing the sector in the week of 20th April 2020. Responses were submitted from 35 organisations – we recognise not necessarily a representative sample, but there was a good and reflective range of size of organisation. Of the 23 registered charities who responded, just under half had an income of less than £150k and circa a quarter had an income between £150k and £350k. (Source – Charity Commission data).
Here is a summary dashboard of key findings from the survey – read on for further analysis and narrative for each point.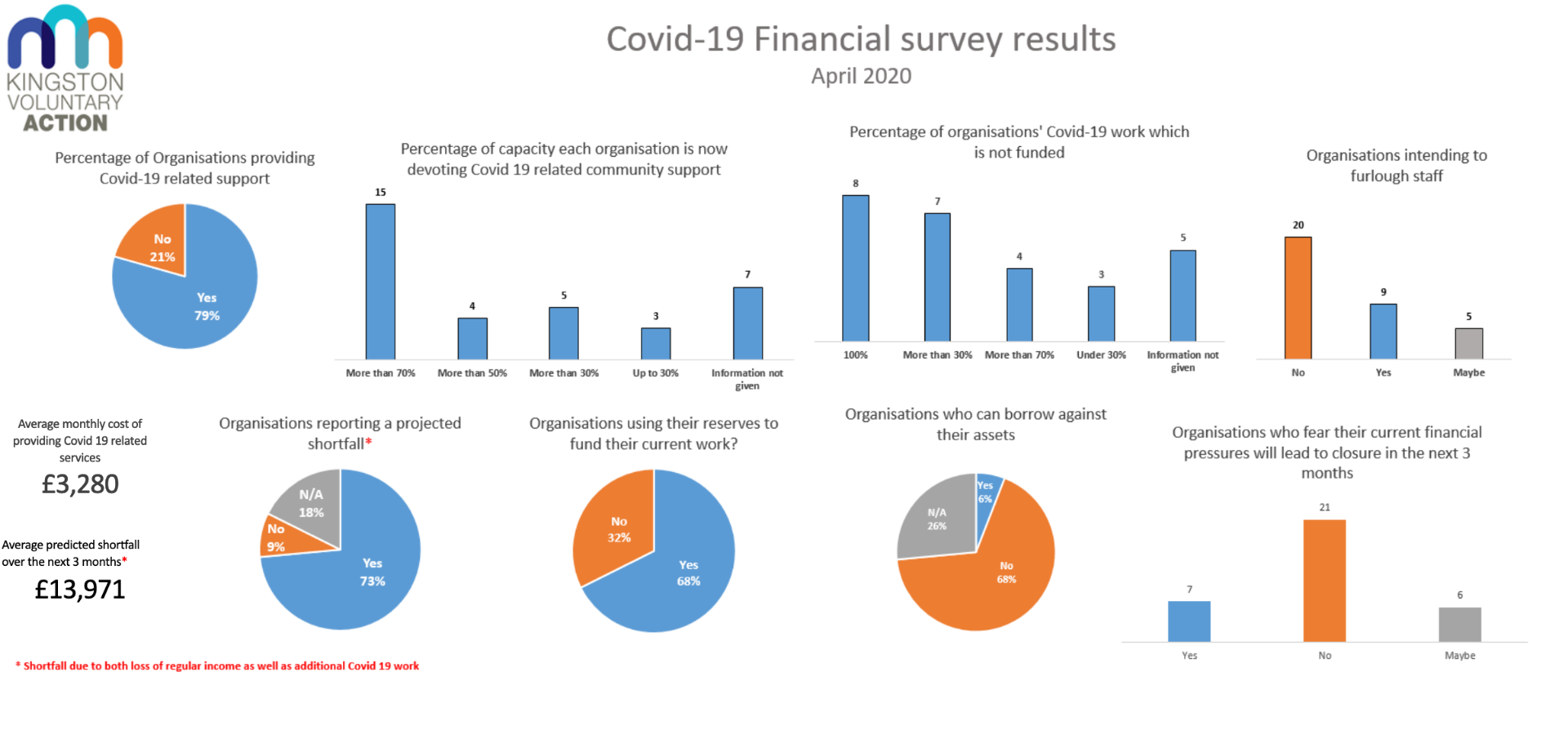 Of the 35 organisations that responded to our survey in total, 28 organisations (80%) reported that they are currently supporting vulnerable people in the borough with the challenges presented by the Covid-19 crisis. This includes adapting existing services to the new circumstances (e.g. offering online rather than face-to-face support) and focusing on new needs arising from the pandemic.
Of these 28 organisations supporting people through the crisis, more than half of the organisations are diverting more than 70% of their resources away from their normal work in the borough towards their Covid-19 response, with 3 charities reporting having to direct 100% of their resources to responding to the Covid-19 crisis. This is a massive shift in a very short space of time and demonstrates the commitment of the sector to proactively meet the changing needs of their vulnerable clients.
Funding:
39% of organisations reported that activities are supported through existing contracts or grants (which may include a contribution to overheads), but 35% of respondents reported less than 10% of their activities are supported in this way.
Of the 28 organisations helping vulnerable people in the community get through this crisis, 44% are receiving no additional funding and are spending, on average, £3,242 a month on providing these Covid-19 specific community support services alongside their existing monthly costs from rent, staff, IT, utility & fundraising costs. Of the 17 organisations able to provide an estimation, the total costs were £58,532
'We will need to get support with funding, the items we are providing are expensive and we have never had any grants previously as the church funds all our activities. This is not sustainable. We believe our monthly costs will escalate as time passes.' Kingston Vineyard & Growbaby

'We are urgently looking for new funding to invest in the 'right technology' to implement a borough wide Parent 'Stay & Play' on-line network.' Kingston Welcare

30 out of 35 organisations identified a shortfall relating to fixed costs (with 75% of organisations including rent/utilities within this, in addition to salaries).

Whilst RBK have offered a rent-free period on RBK owned premises to eligible organisations, others have private landlords: several organisations have tried unsuccessfully to negotiate a rent holiday with their landlord. The loss of premises poses a real risk to the future of organisations who would then have to face the challenge of finding alternative premises, or close.
'We have asked our landlord for a rent holiday, but this has been refused. We have only been told we will be in arrears. Over three months this will amount to £9,600. We have no way of paying back a sum like this, as we were just about breaking even before the pandemic.' Korean Senior Citizens Association

'Should the users of our premises decide not to return because their charitable groups have ceased or are likely to cease to exist, then MEFAS will need to reconsider its

future plans

and accommodation. We have held our existing lease for 34 years

.

'

(MEFAS)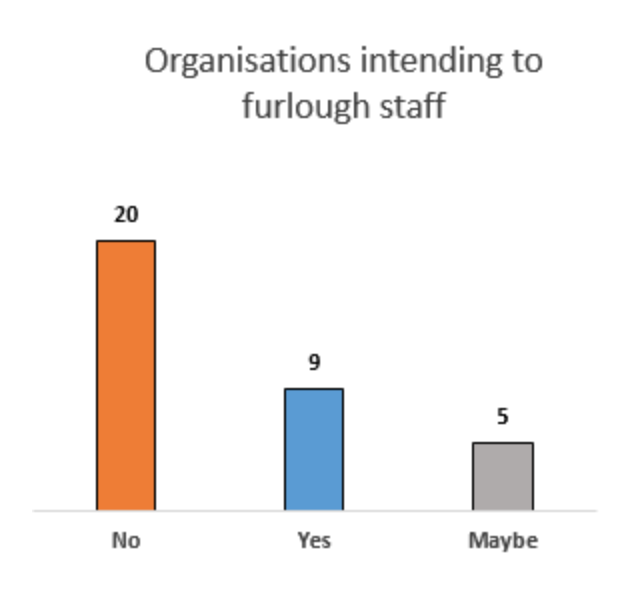 39% of respondents said they already had or were considering furloughing staff. This isn't a straightforward matter for VCSE organisations, particularly where they are partly funded by RBK (public funds). Many organisations are having to transfer staff to Covid-19 related activities and some are paying staff from their reserves. There is also the challenge of how to divert designated funds and the difficulties arising from funding that includes very little in the way of funding for staff.
'The all or nothing nature of the (furloughing) scheme places considerable pressure upon strategic leaders of the charity to work, rather than enabling those front line staff to continue to work when demand for services is increasing. We are having to decide between crippling the charity in the long term but upping our actvity in response to need in the shorterm.' Oxygen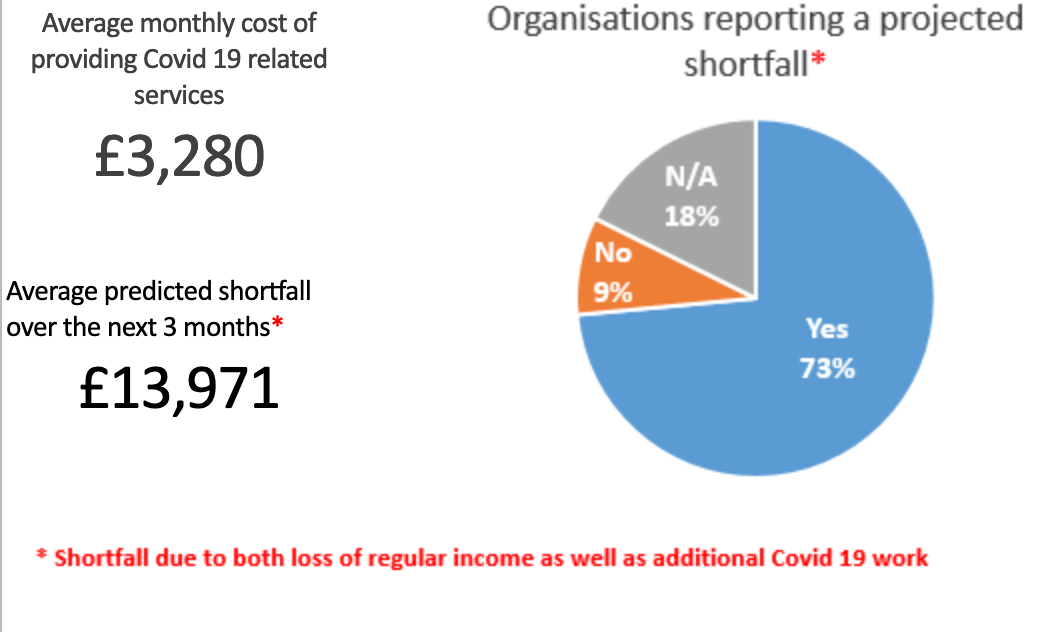 26 organisations (74%) are predicting a shortfall in their resources due to the Covid-19 crisis. This shortfall comes from varying combinations of loss of income, curbed fundraising activities & additional Covid-19 service delivery. The average estimated shortfall for the next 3 months is predicted by organisations to be just over £14,000 with some organisations predicting shortfalls in excess of £50,000.
'We expect to be affected by a drop in donations by 25%. Most of our donations are through the churches and with churches closed or not able to rent out their spaces, they will be struggling themselves. Individual supporters may not be able to support through loss or drop of income. Many Charitable Trusts are no longer accepting new grant applications.' Kingston Churches Action on Homelessness
Using reserves

: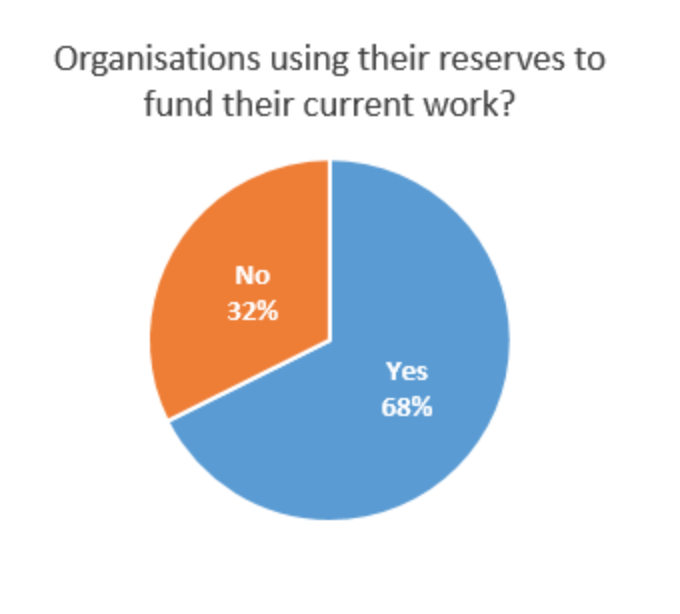 In order to cope with these shortfalls two-thirds of the organisations who responded have started to use their reserves to operate. Using reserves for 'day to day' activities suggests a very worrying situation and a huge threat to the sustainability of many organisations.
Issues have also been raised about the medium and longer term impact of the forecasted increase in demand and changing needs arising from the extended period of lockdown, particularly in terms of mental health, trauma, bereavement, unemployment and substance misuse.
'We will be using all our reserves, so useless monies come in we will have nothing to pay staff and will need to lay people off.' KAG
Risk of closure: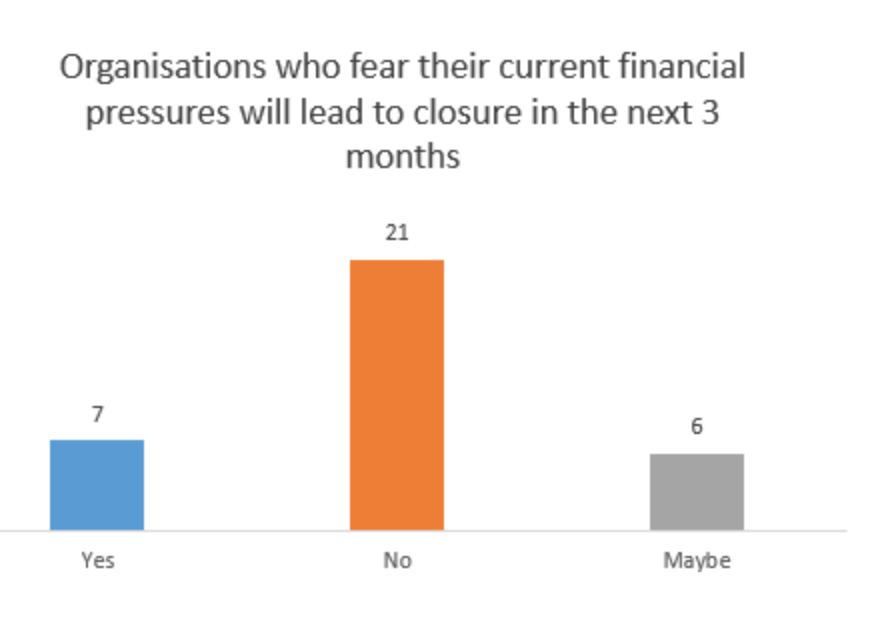 20% reported that they are at risk of closure due to the financial pressures they are facing (with 37% answering yes or maybe to this question).
The impact of this may not be felt immediately, but as the situation returns to what everyone describes as the 'new normal', there will be potentially many more vulnerable people with complex needs left adrift without the support they desperately need. Who will they turn to for help?
We are proud of the response of VCSE organisations in Kingston - epitomising the current #NeverMoreNeeded campaign but these survey results prove that the sector is experiencing huge financial challenges and in many cases, real threats to sustainability, echoing the COVID-19: Challenges Facing the Charitable and Voluntary Sector Briefing for the House of Lords Debate, 30 April 2020.