Support for homeless people in Kingston during the pandemic
During the lockdown KCAH has continued to improve the quality of life of people experiencing homelessness and people in housing crisis in the borough of Kingston. KCAH is a charity committed to working with people in an empowering manner.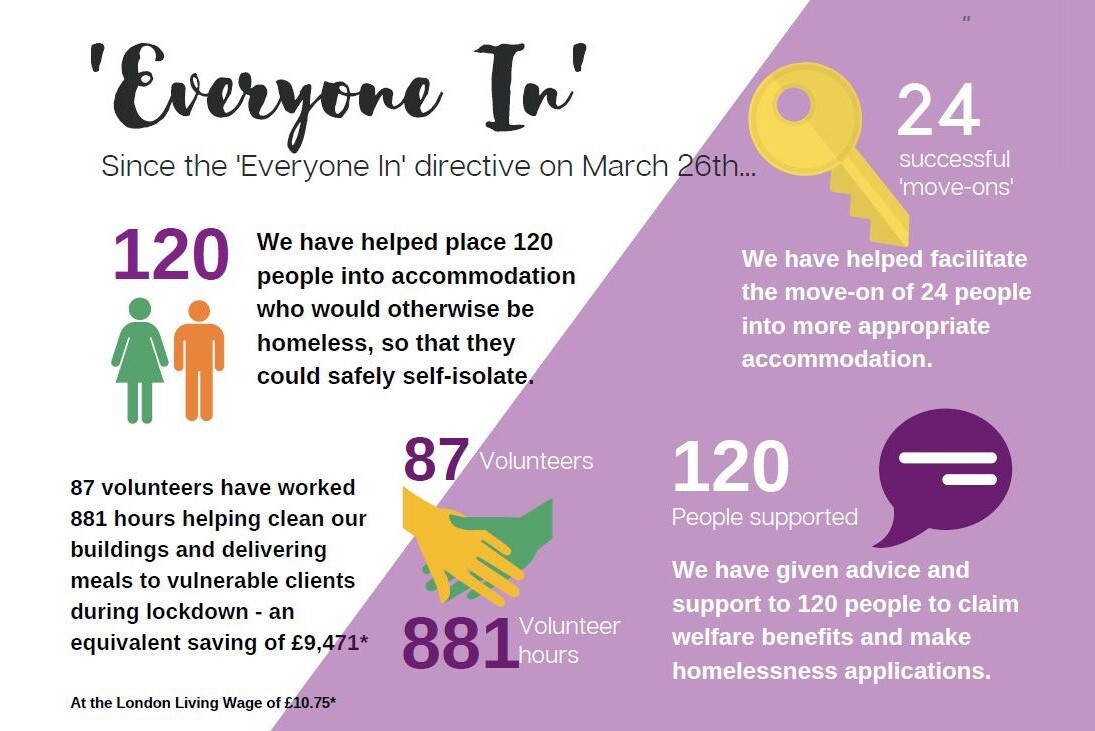 Sophie Mayor, night shelter coordinator for KCAH, says: "It's been really great to be able to put so many people, who would otherwise be on the streets, into accommodation where they are safe and they have a bed."
"We have KCAH staff, those who were shift leaders at the night shelter, are now working at the
hotel to be that sort of friendly face someone that people remember and they can go to if they've got any problems."
"The ongoing support from KCAH is really, really important - a lot of these people who've been staying in the hotel have probably not had accommodation for a very long time."
"A lot of them would be very used to staying outside on the streets - and to be suddenly in an enclosed environment with no option of leaving no option of going out I think that can be a bit of a shock to the system".
Under the government scheme 'Everybody In', introduced in March 2020, KCAH has:
helped place 120 people into accommodation who would otherwise be homeless, so that they could safely self-isolate.
had 87 volunteers have worked 881 hours helping clean buildings and delivering meals to vulnerable clients during lockdown – an equivalent saving of £9,471 (at the London Living Wage).
helped facilitate the move-on of 24 people into more appropriate accommodation.
given advice and support to 120 people to claim welfare benefits and make homelessness applications.
As Darren, a former homeless person, says: "Hopefully the good that'll come out of this means that people will get a base, and people will start addressing some of the problems they have."
"Whether it's in terms of addiction or the depression or other mental health issues but essentially none of it would be able to get done without KCAH."
Matt Hatton, Chief Executive Officer at KCAH, says: "The team of staff and volunteers at KCAH have worked tirelessly throughout the COVID-19 period. As a frontline service, we have been at the forefront of the "Everyone In" government directive to bring people in from the streets who may otherwise be rough sleeping - so that they could feel safe too."
"It has emphasised more than ever the strengths and effectiveness of collaborative working within the borough where so many people have played a part to make this particular project a success. Long may it continue."
---
---
Read more positive and uplifting stories from our local voluntary and community organisations helping the community through the coronavirus pandemic and beyond. #NeverMoreNeeded