Anstee Bridge is an alternative education provision for young people from Kingston and Richmond. Their aim is to support young people who are at risk of not being in employment, education or training (NEET) at 16.
During the lockdown, Anstee Bridge has been able to continue delivering their 'confidence through creativity' programme by moving to digital platforms. Anstee Bridge has embraced the shift to video/phone calls and social media to maintain their connection with their 24 young people.
Lockdown has given new and unexpected challenges to young people. More than ever there is a need to remain resilient and focus on individual strengths and passions, as well as building bonds and healthy friendships.
Their team has curated project work to share their thoughts and feelings related to their mental health through artistic expression. These projects have been really valuable to young people to give them a sense of purpose and community cohesion.
Through Twitter and LinkedIn they have been sharing the creative work their young people have been producing from home. Their daily posts allow young people's work to be enjoyed by community members/followers. These members are also very important as they act as volunteers who support Anstee Bridge delivery.
Anstee Bridge are now preparing for new young people to start in September. They have been meeting virtually with teachers, parents and young people to induct them into Anstee Bridge and familiarise them with the team.
As a parent of a service user says: "Anstee Bridge has offered my child a lifeline and relief from the anxiety my child was feeling. We are feeling a lot of love from the Anstee team right now and thank you for keeping in touch and being there throughout the lockdown for us."
Katherine Greening, Anstee Bridge Coordinator, explains: "Through lockdown have continued to support our Anstee Bridge young people by regular phone calls and texts to check how they are doing. have run a "View from isolation" photography project, sharing food skills projects and a weekly art project which has been very popular. We have also had contact with many parents and offered support and guidance."
---
Anstee Bridge video
Katherine Greening, Coordinator at Anstee Bridge, says: "It was set up originally to support young people at risk of becoming NEET - not in education employment or training in year 11. And over the years we've developed it to really support young people in the borough that have social anxiety, emotional issues, mental health issues who are really struggling at school. One of our main aims is to get them a post-16 destination and also to build that resilience, that self-belief, that confidence."
Laura Jarvis, Teaching assistant at Anstee Bridge, says: "Anstee Bridge is about building confidence through creativity, serving the community, helping to re-engage, be aware of where they're growing up, and be able to interact with people within their community."
As one young person puts it: "They have supported me a lot because they've helped me apply for a college. They've helped me and my confidence and they've helped me with my music projects. If you're unsure of anything they're there for you."
Another young person adds: "Anstee Bridge has helped me with a lot with my confidence. Before I came here I was I had a very bad social anxiety. I wouldn't really talk to many new people but since coming here I have been able to push myself into tasks I've never done before."
---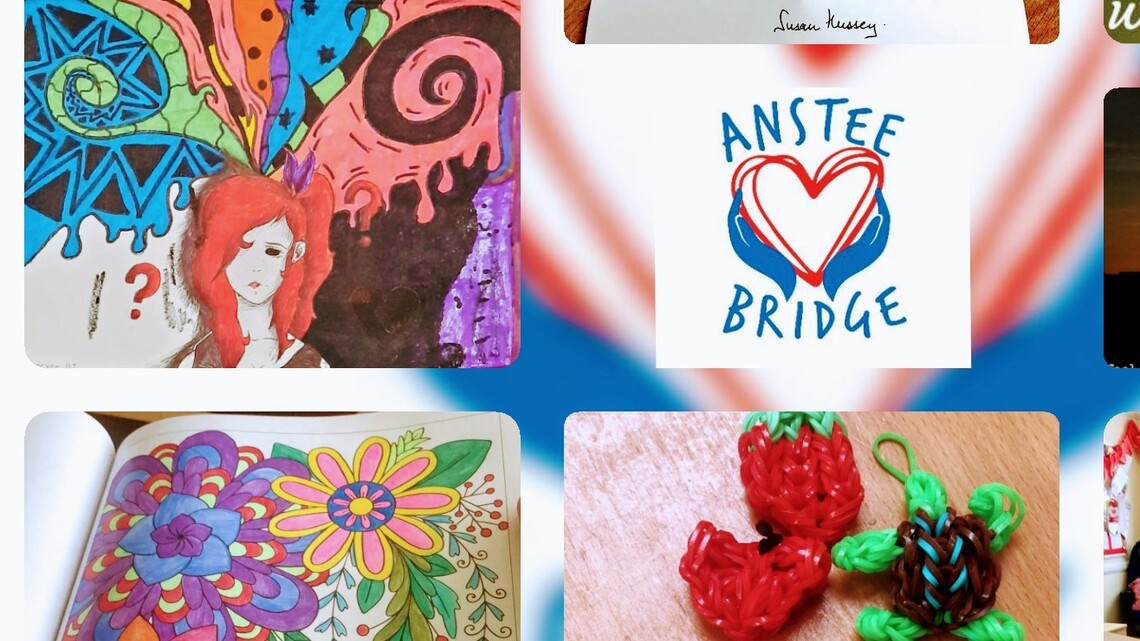 Artwork pictured is a collage of the weekly project work the young people have been completing during the lockdown and how the Anstee Bridge team have worked hard to adapt the centre's space to comply with social distancing guidelines.