Developing the long term plan for the NHS
The NHS is working on a plan setting out its ambitions for improvement over the next decade, and its plans to meet them over the five years of the funding settlement. As part of that process it is vital that all those who rely on and work in or alongside the NHS have the opportunity to contribute their ideas, experiences and insights.
The discussion guide is intended to help stimulate those ideas and understand views across three key themes: life stage, clinical priorities and enablers of improvement. Each section provides an overview of some of the key challenges and a series of questions. You can provide responses for every topic, or just the ones that are most relevant to you or the group you represent. In addition to these, the following overarching questions are posed:
1. What are the core values that should underpin a long term plan for the NHS?
2. What examples of good services or ways of working that are taking place locally should be spread across the country?
3. What do you think are the barriers to improving care and health outcomes for NHS patients?
Feedback should be provided via the online feedback form but do hurry, it closes on 30 September…. To see the questions and further information, please click here
The Mayor of London's draft strategy for sport
The Mayor of London has published his draft strategy for sport in London, 'Sport for All of Us', which is out for consultation until 12 October. This strategy describes the Mayor of London's plans to make London the undisputed sporting capital of the world by hosting the biggest and best events, to keep Londoners fit and healthy, and above all to harness the power of sport to bring communities together through grassroots sport. Feedback received from stakeholders is continuously being reviewed and analysed so please do respond as soon as possible. Go to the online webform.
New service for carers of people with Dementia
Alzheimer's Society Kingston is running a new support service for carers of people with Dementia. The group offers advice, information and the opportunity to meet with other carers in a friendly supportive environment.

The new Peer Support Group opened on 14 August and will run on the 2nd Tuesday of each month, from 10:30-12:30. Sessions will take place in Room 32 Acacia Wing, Tolworth Hospital, Red Lion Road, Surbiton KT6 7QU (parking is £2 on site and the K1 stops next to the hospital).
For more information about the Carers Support Group, please email: Joanna Newton at Alzheimer's Society Kingston or tel: 020 3513 5147 / 07714 920629
Mind in Kingston has been selected for the Tesco Bags of Help scheme, one of three charities that the public can vote for in store during September and October 2018. The more support they receive the higher the amount it is possible for the organisation to raise to purchase materials for Edit's art group.
If you visit and offer your support at any of the following Tesco stores:
Hook Express KT9 1EL
Kingston upon Thames Express KT2 5EB
New Malden High Street Express KT3 4DQ
Norbiton Express KT1 3RT
Surbiton Hook Road Express KT6 5AR
Tolworth Express KT6 7DQ
Worcester Park Express KT4 7NW
National Eye Health Week 24-30 September
To promote the importance of eye health and the need for regular sight tests for all. Vision really matters. Sight is the sense people fear losing the most, yet many of us don't know how to look after our eyes – National Eye Health Week aims to change all that! Click here for more information.
Tampon Tax Community Fund
The Tampon Tax Fund allocates funds generated from the VAT on sanitary products, to projects that improve the lives of disadvantaged women and girls.
Charities and community groups delivering projects that support women and girls to build skills and confidence, improve their health and wellbeing, and build social networks, can apply for this fund. Grants of between £5,000-£10,000 are available. Within this context, applicants will need to demonstrate how they meet one or more of the following objectives:
Building skills and confidence

Improving health and well-being

Building social networks
For more information or to apply, go here.
Kingston Recovery Hub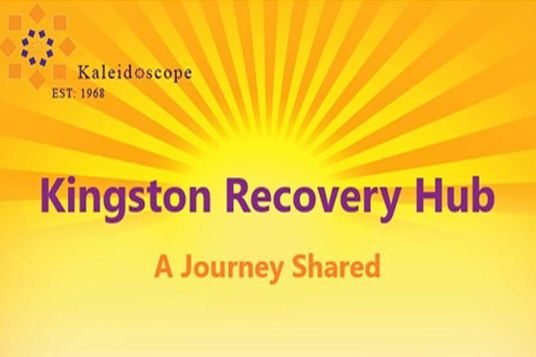 Open daily, Monday to Friday; 11:00 to 12:30 and 13:30 to 15:30. Please check their Facebook page for news of sessions/events:
Any queries, please contact Mick Gallagher: mob: 07795 382068, email: mick.gallagher@kaleidoscopeproject.org.uk
Entrance via metal gate next to Monkey Puzzle in Cromwell Road. Ring the bell next to the notice board. Cook and eat sessions are closed to the public. Below are the sessions for week commencing Mon 1 October:
Day/Time

Monday

Tuesday

Wednesday

Thursday

Friday

11.00am

To

12.30

Drop in:

Tea and toast

Drop in:

JOEL BAKE

Drop in:

Tea and toast

Drop in:

Tea and toast

Drop in:

Tea and toast

LUNCH 12.30-1.30pm Closed

1.30pm

To

3.30pm

Recovery

Session

Scrabble Smackdown

Culture Cook

Make Music

BAKING/FILM
Kingston Primary Care Forum - Meeting 10th October
Invitation to the next Kingston primary care forum, which is a great opportunity to hear about developments and latest news, as well as the chance to give us your feedback on local health services. Wednesday 10 October 2018, Queen Anne Suite, Guildhall, Kingston, KT1 1EU, 6pm to 7.30pm
Agenda:
- Update on Connected Kingston (Kingston's social prescribing project) with Chris Jones, Commissioning Lead - Preventive and Community Services
- Kingston Pharmacy Services with Terry Silverstone, Local Pharmacy Committee
Refreshments provided. For more information and to RSVP contact kingstonccg.engage@swlondon.nhs.uk
Healthwatch Kingston upon Thames are recruiting ...
Healthwatch is looking for the following role:
We are also looking for Trustees to join the Healthwatch Kingston upon Thames Board:
Kingston Digital Navigator Celebration Event 18th October 10.00am - 1.30pm
A call out to all learners who came to the training - come and join us to celebrate your learning and receive a Certificate for your participation. E-initations, with an exciting Agenda, will be on its way shortly.
Selfcare Kingston
Out this week - and ahead of the deadline is a round-up of support for those making a choice to quit smoking in October. Useful contact numbers and a variety of support options are open to residents.
And a reminder if you missed our September Selfcare update - its on good workplace health
Community Health Matters
The latest update from the Council on Community Health Matters, including information on quitting smoking.
Some people believe all the benefits of quitting smoking don't start until years after you stop but, did you know...
after 20 minutes your blood pressure and pulse rate return to normal
After 8 hours nicotine and carbon monoxide fall by half and oxygen returns to normal

In just 24 hours carbon monoxide leaves the body and the lungs begin to clear unwanted substances

In 48 hours nicotine completely leaves the body and your sense of smell and taste improve

After 72 hours your breathing becomes easier and energy levels increase

Smoking is the no.1 avoidable cause of death in the UK so it could be a truly life changing decision to quit... So it's a great decision for your physical health but what about your mental health? 42% of tobacco sold in the UK is bought by people who suffer from mental ill health…
Smoking has strong links to poor mental health. You may experience higher stress and anxiety levels, so it's definitely worth thinking about quitting.

If you or your friends are interested in quitting call Kick It's dedicated support team on 020 3434 2500 or visit the Kick-It website!